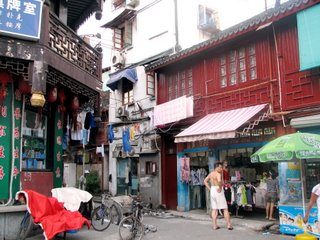 Two days ago it rained in our hearts. With great sadness we said our goodbyes to those we've grown so close to for the past month (our Chinese students and hosts, our American and Canadian friends, the locals who slept on lounge chairs on our street and the bar girls we befriended) and left Suzhou with an open invitation to return. Words cannot convey the warmth with which we were received or the gratitude we feel for having had this amazing opportunity. I can only hope that this is the first of many future adventures in China.
I write this sitting in the clubroom in the Portman Ritz Carlton, overlooking the city of Shanghai. With all the construction we have seen while exploring this vast city, I very much doubt I will recognize this skyline next time. I think we have been fortunate to see a few pockets of Old Shanghai and I am sure my pictures don't do it justice. This is a nice way to end this adventure although not reflective in any way of the rest of the rest of the trip. We are feeling very pampered at the moment.
Enough champagne…time for a nice hot bath. See you in Miami!